I was raised and born in Savoie, in the French Alps. I've had a very happy childhood in a small town, spending all my summers in the mountains with my family. I've always loved this lifestyle, the nature, animals and this is what made me want to buy my first camera at 13 years old, to capture this beautiful nature. The camera looks like a toy. 3.2 Megapixel. 256 Mo memory card. Yep, crazy.

In parallel, because I was an agitated kid, my parents put me in ballet classes when I was 6.
First love story.
Ballet became a huge passion and I've practiced it for 12 years.
Fast forward, I've moved to Paris to study Art Direction and Creative Thinking. For my last year of my Master's degree, we've had the opportunity to study in London for 6 months. A dream for me. I took the leap while not understanding English very well and not speaking the language at all.
Second love story.
I fell in love with London and the people. I felt like I was finding my adult self. The beginning. The little seed.
Back in Paris for an internship in a luxury brand company. Great opportunity, I couldn't miss it, but my brain and my heart were in London. Long story short, a mix of right timing, luck and hard work, I've met through my internship a CEO of an agency based in Paris and London. We've had a great talk and he told me to meet his team in London when I was back there for a few days. Little did I know that their Art Director was leaving. The next day, I've received a call: 'We want you in London. Can you start in 2 weeks?'. Guess what... HELL, YEAH!
Here you go. 2017. Brexit voted in July, me moving to London for good, as junior Art Director on the 1st of August.
And this, is how I've started my career.

Third love story.
I didn't really know how to draw but I wanted to learn. To be able to create anything I wanted. 2020, Covid happened. I've started to draw. 2021, my 80 years old grandfather who pays his food shopping on his village with his Apple Watch, bought me an iPad Pro. I finally had Procreate. Within a few month, I've started illustration and OH MY, I love it.
Finding myself as a creative in a long time journey but I knew back then that I was really aligned with what I did. However, I was still missing a part. This passion I've got for dance, body, health. Never wanted to be a dancer, and yet, wanted to be a professional on this 'movement/sport' sphere. I didn't know what, but it was a very deep feeling. And then, yoga entered in my life.

Forth love story. I've reconnected to myself like I've never done before, on such a healthy way that in 2021, I've decided to do a Yoga Teacher Training and Breath Coach Training. Now, in parallel of being a Creative, I'm also teaching yoga and breath work and I love it.

I am the kind of creative that love simple and complex. That love helping small and big businesses and helping people and the planet as much as possible. I also love creative beautiful visual for luxury and have this eye for details, but also love creative concept and more in your face content if that's what we want to do.

I take my personal time to continue learning creative skills, doing projects and teaching yoga and breathing to people. I'm even teaching corporate yoga in the company I'm currently working at. Best of both worlds, right?
And that's my story. At least, a part of it.
If anything resonated with you, please, contact me. Life in about connection and you never know, we can always help each other or work together!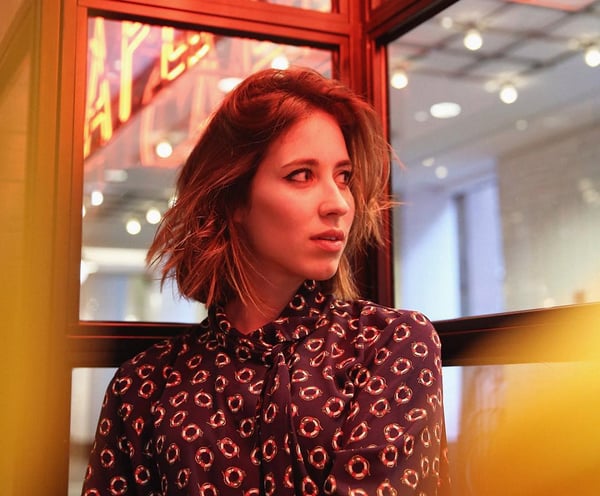 2020 - Present
Art Director at The Studio, H+K Strategies, London

Freelance Photographer Yoga, Yoga Retreat, Dancers, Portraits

Yoga Teacher and Breath Coach online, at Stretch London and H+K Strategies, at different corporate firms and schools like OMNES Education
2019
Strategist Art Director at Talent Village, London
2016 - 2018
Art Director at ReflexGroup, London
2016
Assistant Art Director at Les Gens, Paris
2015
Assistant Art Director at L.O.V.E agency, Paris
What did I do?
Also... did you say awards?
2022
Communicate Lens awards for GN Hearing video
Gold: Best video in a documentary style
Gold: Best use of video to assist reputation management
Silver: Best video targeted to a general audience
Silver: Best use of video from the healthcare and pharmaceuticals sector
2022
30-hours Breath Coach Training
with Yoga Body
2021
250-hours Yoga Teacher Training
with Stretch London
2013 - 2016
Master Degree Communication and Digital Marketing
Art Direction & Creative Thinking
INSEEC Group + School of Communication 2.0 Paris and London
2011 - 2013
Bachelor in Multimedia and Graphic Design
Savoie University, Bourget du Lac, France
Any projects you want
to work on with me?